About University of Huddersfield
The University of Huddersfield's roots go back some 160 years. We are a successful, popular and innovative University that offers a wide range of higher education and world-leading research, and we are proud of our achievements. In addition to being the Times Higher Education 2013 University of the Year, recipients of the TEF Gold Award, and joint first England for professionally qualified teaching staff (HESA 2020), and we won the inaugural HEA Global Teaching Award in 2017.
The University's vision is "To be an inspiring, innovative University of international renown" and its mission is "To deliver an accessible and inspirational learning experience, to undertake pioneering research and professional practice, and to engage fully with employers and the community".
We offer high quality teaching and an impressive record for graduate employment and enterprise. In fact, we became the Times Higher Education Entrepreneurial University of the Year in 2012, and in 2013 we received two coveted Queen's Awards for Enterprise (an institution award for International Trade and an individual award for Enterprise Promotion). The University of Huddersfield has a student population of just under 20,000. Students from almost 120 countries are represented on campus, and it is estimated that the University is responsible for £300 million in direct and indirect contributions to the local economy. In 2018, it was the only University scoop two of the Times
Higher Education Leadership and Management Awards; the hotly contested "Outstanding Leadership and Management Team" and the "Outstanding Strategic Planning Team." Our research programmes are predominantly user inspired and consequently demonstrate high impact. We have strong ambitions to become a research led university and have a robust research strategy to underpin our plans. Our existing research strengths provide a solid foundation, and we have centres of excellence across a wide range of disciplines e.g. engineering, chemistry, social work, music, and history amongst others. Our Centre for Precision Technology (CPT) has recently secured a prestigious EPSRC National Manufacturing Centre and our School of Music has state-of-the-art sonic research facilities unique within England. Our postgraduate research community is vibrant, with student satisfaction scores well above the sector norm. In addition, we have implemented major initiatives to create a strong research environment and culture across the University. We opened the 3M Buckley Innovation Centre in 2012 – a £12 million innovation project, which signals a new approach to University-business engagement.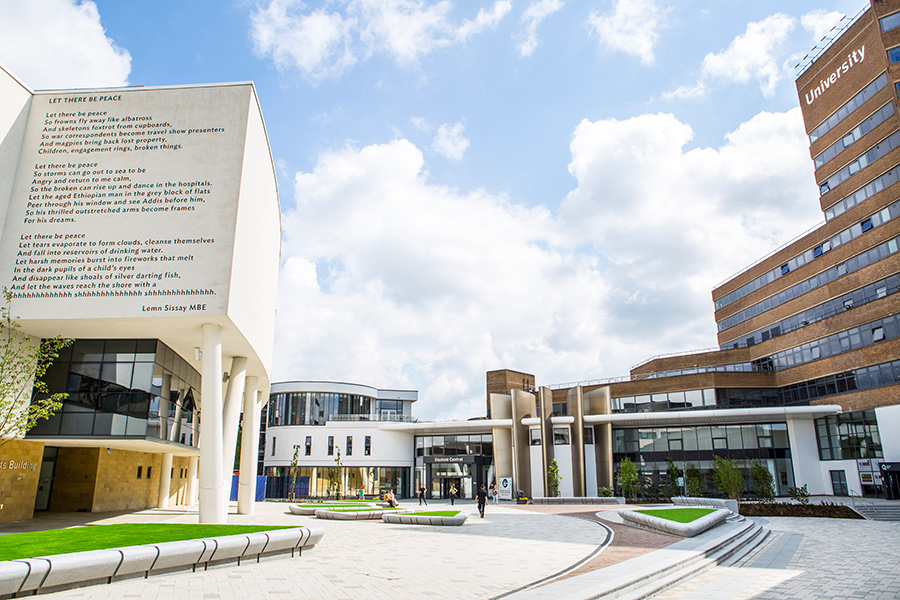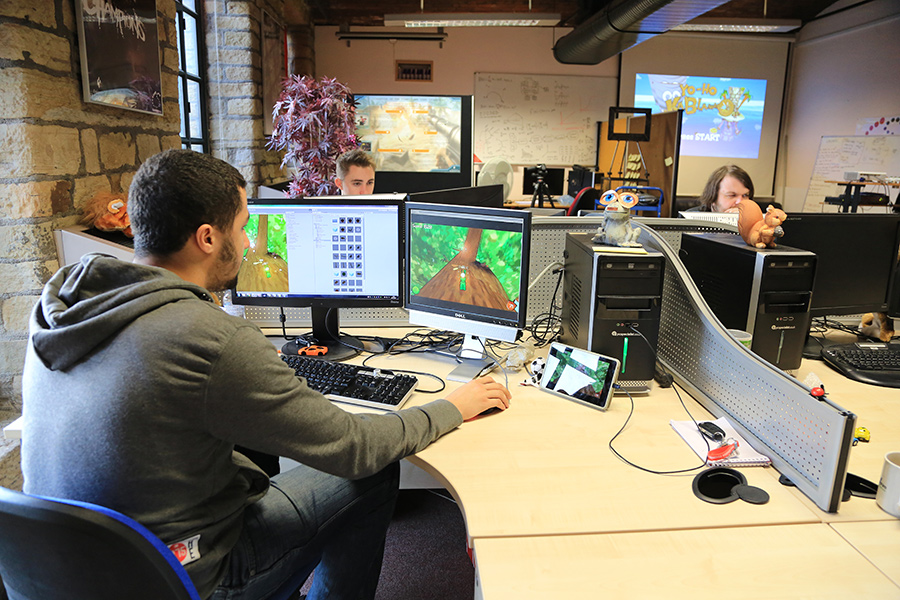 The University has a history of close involvement with industry, business and its cultural community. The extent of that involvement is probably best illustrated by the fact that the University is in the top ten in England for student sandwich placements in industry. The University connects with the world outside the campus, with links to a broad range of companies and organisations. Our connections help us to keep our courses relevant to the world of work and ensure our students have good employability skills. Huddersfield consistently appears in the top ten universities in official surveys of graduate employability.
Our striking town centre campus straddles the refurbished Huddersfield Narrow Canal and offers extensive views of the wooded Pennine foothills. The campus combines both new and historic buildings, and over £160 million has been invested in new facilities and buildings for students.
The University has won Civic Trust Awards for the imaginative refurbishment of historic mill buildings for the teaching of Computing and Engineering. However, we are also very proud of our contemporary architecture. The £17 million Huddersfield Business School building opened in 2010, and our £22.5 million Student Central, providing new sports, leisure, learning and catering Facilities opened in 2014. The £26 million Oastler building followed in 2017, the £31 million refurbishment and extension of the Joseph Priestley building in 2018 - 2019 and then the £30 million Barbara Hepworth building, housing art, design, and architecture, opened in 2019.