Welcome
Dear Candidate,
Thank you for your interest in Priors Court School and the opportunity to become our Education Lead for years 11-14. This exciting new role has arisen from one of the operational team members accepting a promotion at another school. Our ambition is to continue on our Outstanding journey and go beyond the Outstanding that we have already been recognised for. Everyone at Priors Court is incredibly proud to have been recognised as Outstanding but we have achieved that through a relentless focus on improvement and this will continue. We believe the new structure, with Education Leads for years 3-10, years 11-14, and post 19, with each responsible for ensuring outstanding progress for their young people, will support and secure further improvement.
Our overall goal and aim for all the young people at Priors Court School is to achieve to their full potential. The individual needs to be at the centre of everything we do and by working as a team we individualise learning based on skills and interests. Our Learning Areas focus on skills that have function and meaning and prepare the young person for life. Education and teaching applies to the whole day of the young person and through our own unique Prior Approach (autism specific ways of learning), we successfully support the young person in all areas.
As Education Lead you will be accountable for demonstrating and evidencing outstanding progress in all areas of Learning; - Communication, daily living skills, vocational skills, positive behaviour support, keeping me safe and healthiness for all young people across your key area. You will have the opportunity to lead a highly committed and skilled team of practitioners, and will work closely with colleagues responsible for Care. We have high aspirational goals for all our young people and we support them to overcome many barriers that are a result of their autism and our Education Lead must share these values.
I hope that once you have read our information you will be interested in joining our outstanding school. Please do not hesitate to get in touch with Martin Blair at Hays Leadership on 07736791138 or at martin.blair@hays.com for a private and confidential discussion about the role, to arrange a visit to the school or to discuss making an application.
If you are totally committed to helping the young people at Priors Court to achieve their full then I hope you will feel encouraged to put an application together.
Kind Regards,
Sue Piper
Director of Education and Lifelong learning,
Priors Court Foundation
About us
Prior's Court Foundation was set up in 1999 and is a non-profit making charity dedicated to providing the highest quality of education and care for young people aged 5-25 who are severely affected by autism and to promoting best practice and expertise worldwide. Set on a beautiful 50 acre site in West Berkshire, there are extensive facilities adapted to support the complex needs of the children and young people. It consists of a specialist residential school, young adult provision and a training and development centre and supports and improves life chances.
Prior's Court School is an independent special school run by Priors Court Foundation. There are currently 58 on roll with another 25 in post-19, the majority of whom also live in residential accommodation provided by the foundation. All have severe learning difficulties and associated challenging behaviors with the majority being non-verbal. All have an education, health and care plan.
The school is structured into 3 sections – years 3-10, year 11-14 and post 19 which mirrors the structure within the Care team responsible for the residential aspect of the foundation. There are currently 35 young people in years 11-14.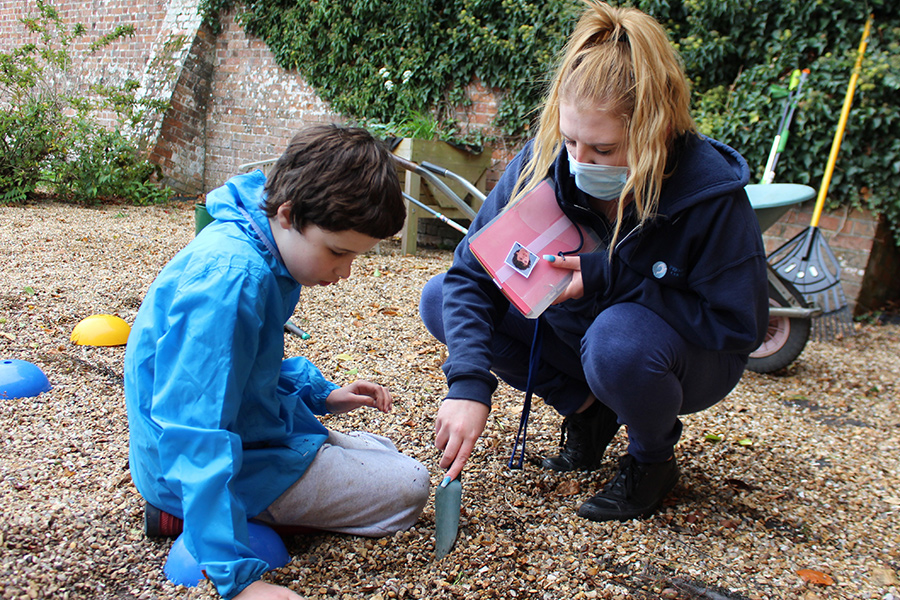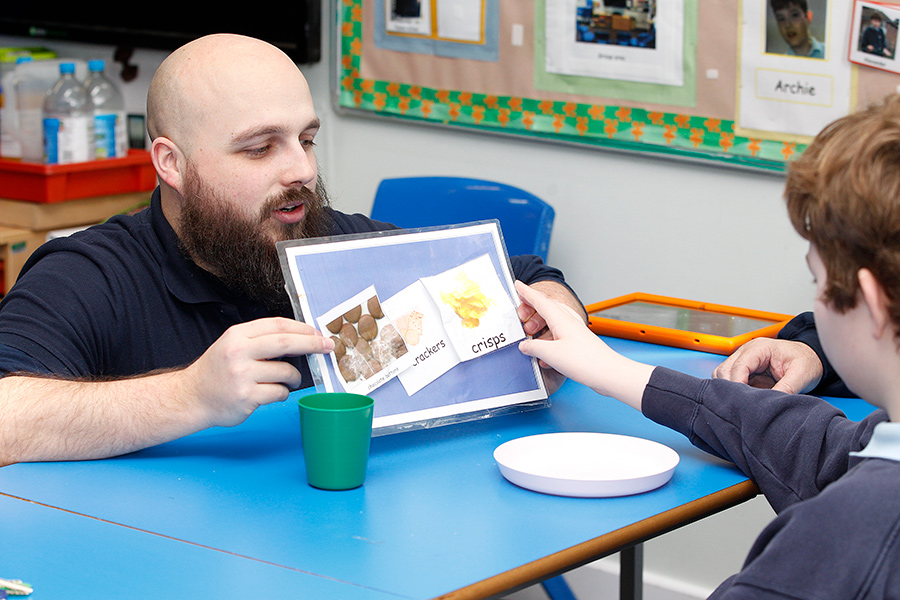 The school has fantastic facilities and is set in 50 acres of safe parkland with trails, swings, zip-wires, outdoor gym equipment, an all-weather running track, kitchen garden and horticulture area and a Countryside Learning Centre with outdoor classroom and a variety of animals including cow, sheep, goats, guinea pigs and rabbits. There is an indoor heated sensory swimming pool, occupational therapy room, multi-sensory suite with interactive multi-sensory and soft play rooms, food technology classrooms, independent living skills classroom and much more to support the needs and development of the young people. To support our ambition into work we have opened an on-site bakery and recently planted an orchard for a commercial enterprise of pressing and selling apple juice. There is a wide range of on-site therapeutic support including speech and language therapists, occupational therapists, psychology assistants, music therapist and specialist swimming and PE teachers.
See How to guides
The Prior Approach
The Prior Approach is based on autism best practice and has developed from the expertise and successful practices at Prior's Court. It is shaped to suit the specialist needs of individuals with autism and support their physical, intellectual and emotional wellbeing. Applied across all settings with consistency, the approach provides a toolkit of skills which enables individuals severely challenged by their autism to make sense of the world around them, overcome barriers to learning, to communicate and to achieve a higher level of independence and fulfilment.
The approach acknowledges that people with autism think and learn differently from their peers. It recognises that they are fundamentally unique individuals with different paths to successful learning. The approach is designed to be transferable across all settings of the individual's day. The key focus is on working towards goals for future work and independence through effective application of the approach.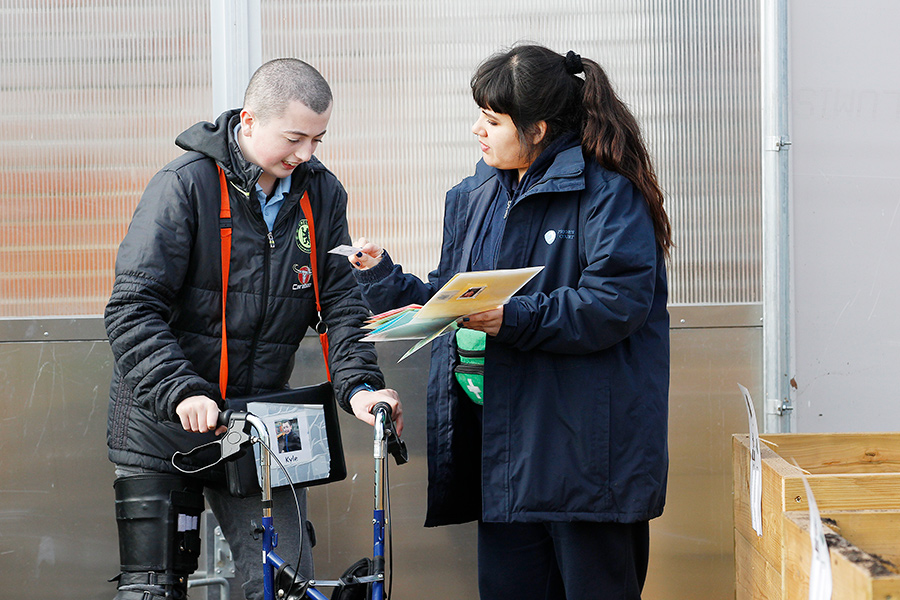 A key aspect of Prior Court's success is the high level of expertise amongst staff. The approach is based on TEACCH methodologies - world renowned for its effectiveness in supporting those with autism. An exceptionally strong focus on training means staff are experienced in using a range of strategies to support young people's individual needs and development in all settings throughout the waking day.
A high number of staff are TEACCH trained including Teachers, Home Managers and Deputy Managers plus three staff are TEACCH Certified Practitioners and four are TEACCH Certified Advanced Consultants which is a very significant achievement. Regular staff training from induction onwards ensures the highest levels of knowledge and expertise in all staff and 25% of the UK's Advanced Consultant TEACCH Trainers are at Prior's Court.
Purpose, Ambition and Values
Purpose
The fundamental purpose is to embrace autism in a positive and ambitious manner and to transform the lives of those affected by it.
Ambition
The strategic ambition, over the next 5 years, is to achieve outcomes for the young people which are beyond imagination. We want every young person to leave our organisation, happy, healthy, independent and with the skills to enter some form of work.
This will be achieved through ambitious plans across the five key areas of the focus:
The progress of young people,
Keeping young people healthy and safe
Making Prior's Court a great place to work
Maintaining financial security
Creating our future.
These plans include implementing a digital transformation project, opening new commercial enterprises to support young people into work and improvements to the physical environment.
Values
The attitudes and values displayed by all at Prior's Court team mean they will:
Work together as a team for the benefit of the young people
Continually improve all they do
Never give up
Empower and energise people to do great things
Do what they say they will do
Be ambitious for the young people and themselves.
You will find lots of additional information at https://www.priorscourt.org.uk/
The opportunity
Education Lead for Years 11-14
£55k - £65k. Starting salary negotiable
Purpose of the post
Accountable for demonstrating (with tangible evidence) outstanding progress in Literacy, Numeracy, IT, Science, Communication, daily living skills, vocational skills, sensory tolerance and healthiness for all children and young people in years 11-14.
Key documents
Timeline
Closing date: 8am, Monday 15th March
Start date: September 2021 or ideally sooner if possible.
How to apply
For further information, an informal and confidential discussion about the role or to discuss the application process please contact Martin Blair at Hays Leadership Appointments.
Martin Blair
Hays Leadership Appointments
Tel: 07736791138
Email: martin.blair@hays.com
Location
Prior's Court
Priors Ct Rd,
Hermitage, Thatcham
RG18 9NU