Welcome
Foreword from Joanna Davinson, Chief Digital, Data and Technology Officer
Thank you for expressing interest in joining the Digital, Data & Technology organisation at the Home Office. The first duty of the government is to keep citizens safe and the country secure. The Home Office has been at the front line of this endeavour since 1782 and is one of the original great Departments of State.
Our goals are to cut crime, prevent terrorism, control immigration, protect the vulnerable and respond effectively to crises. We are responsible for borders, immigration and citizenship throughout the United Kingdom, for national security within Great Britain and for public safety in England & Wales, at the heart of an operational community of over 300,000 public servants in over 100 organisations in which the country invests around 1% of our national income.
This is a unique opportunity to join a large and fast-paced Digital, Data and Technology (DDaT) team at a critical time given the enormity and potential of the current agenda as well as the determination of ministers and senior civil servants to transform the way in which government technology is being designed, built and procured.
We've made good progress to date, and our delivery track record gives credence to our strategy of bringing back 'in-house' our key design and architecture decisions, more directly controlling product development, putting users at the heart of our solutions and converging them across the business wherever beneficial.
We continue to enhance the quality of our services and industrialise our operations functions, building on new, common platforms and infrastructure. The opportunity for transformation across the Home Office is immense and it is clear that the department's ability to deliver major transformational change depends hugely on our digital, data and technology capabilities.
I believe we have some of the most fascinating digital, data and technology leadership roles in the market, coupled with the compelling mission of supporting the safety and security of the country, we support a great breadth of services, a diverse stakeholder environment, cutting edge solutions and an exciting agenda for the future. Our roles combine intellectual challenge, the opportunity to work with talented DDaT professionals across Government, build strong partnerships with industry and the chance to influence issues that directly affect millions of people's lives.
If you have the appetite for very large scale digital transformation, to manage the technology that supports critical solutions to our nation, and to lead the teams that will deliver it, I look forward to receiving your application.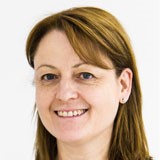 Joanna Davinson
Chief Digital, Data and Technology Officer
Hays Microsite jobs listing
Latest jobs
| Title | Location | Salary |
| --- | --- | --- |
| Senior Service Manager | Croydon | £41,950 - £46,144 + RRA up-to £6,250 |
| Senior Service Manager | Croydon | £41,950 - £46,144 + RRA up to £6,250 |
| Senior Service Manager | Manchester | £37,450 - £41,193 + RRA up to £6,250 |
| Senior Service Manager - Cyber Risk Manager | Manchester | £37,450 - £41,193 + up to £6,250 RRA |
No job found
View all Jobs