Opens in a new window
Opens an external site
Opens an external site in a new window
Welcome
Care for Warrington
Start a rewarding career, develop specialist skills and achieve your goals whilst making a difference for some of the most vulnerable people in Warrington
Most people dream of being in a career they find meaningful. Of going home at the end of each working day feeling proud and like they made a difference. Enjoying the motivation and excitement of knowing that every day you are empowering the people that you support to live their life to the full.
That's why so many of those who work in adult care feel lucky to have found their calling.
Across Warrington there are Real opportunities for YOU, now, to make a career change you won't regret.
Following an increase in demand for Care services across Warrington, Warrington Borough Council, in Partnership with Hays Social Care are supporting the recruitment of up to 100 new roles.
Successful applicants will secure a permanent job with one of 14 independent organisations who provide care services throughout Warrington.
Build a Rewarding Career
Care is not just a job, it's a career where every day has the potential to be extraordinary!
Day in, day out you will be developing relationships with clients, their family and friends and you will know that the work you do makes a real difference to their lives. Supporting your clients mental and physical health needs with a passion to improve their life outcomes not only impacts positively on them but also will give you a real sense of achievement that is difficult to experience in any other role!
The Care sector touches on every aspect of society & is predicted to grow significantly as it evolves to meet the demands of the changing population in the UK – this means exciting, long term prospects with career pathways that appeal to all; supervisory & management, community & residential or specialising in specific care areas like Dementia, Mental Health or Learning Disabilities to name a few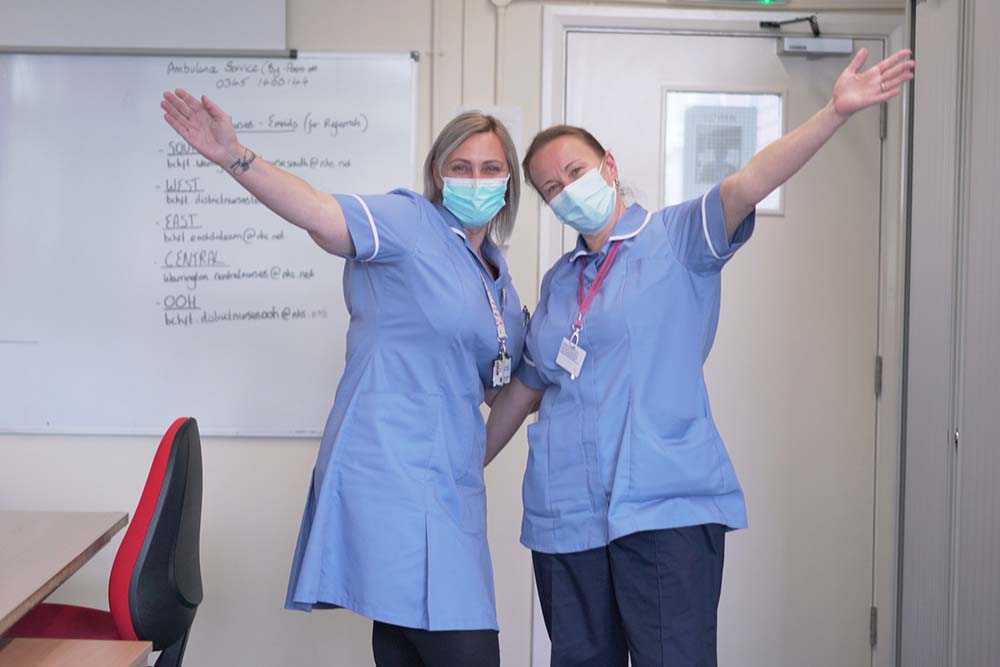 Developing Specialist Skills
Contrary to popular belief, you don't always need to be fully qualified to find a job in the care industry.
That said, working as a Carer is very much a skilled profession and employers across Warrington are committed to providing the initial on the job training and support required to equip you with the skills and knowledge to become a confident & capable Carer.
Yes, you will rely your interpersonal skills and core attributes as part of the role but you will also develop the technical skills and knowledge, whilst on the job to allow you to deliver first class care to your clients
The reasons why people access Care are varied and the skills and training required to meet those needs are equally diverse, meaning a career in care can provide ongoing long-term opportunities for continuous professional development, through formal training & regular exposure to new experiences
Achieve Your Goals
Many people choose a career in care because it provides opportunities for people to achieve their goals, both career and personal
Competition for staff amongst the different providers is high and that means many care providers offer attractive packages including competitive pay, contributory pension schemes and other financial and non-financial benefits
Care is a nurturing environment with an emphasis on staff development and long-term careers, increasingly so as employers seek to build highly effective teams to deliver care to their customers. If you are excited by developing new skills and challenging yourself through exposure to new experiences, care delivers this in abundance
Flexibility is inherent, with care is some cases being required 24 hours a day, 7 days a week. This allows you to find a working pattern to fit in around your busy life, whether they be family commitments, other employment or study. There is always with the opportunity to increase your hours or work alternative shifts as required
The work itself is varied & exciting – every day is different, and every day presents opportunities to achieve something special and it is this that
To find our more, register your interest.
Highly Rewarding Work
Variety as a given – no two days are ever the same.
Flexible working patterns to fit around your other commitments
Learn & use New Skills – extensive training available
Meaningful Long Term career & development opportunities
Hays Microsite jobs listing