Welcome from the Executive Principal and Head of School
"We're in the business of learning"
Thank you for your interest in the Heath School.
It is my pleasure to welcome you to The Heath School. We are a successful, popular and welcoming comprehensive school with almost 1200 students on roll.
The Heath School CARE values (Co-operation, Aspiration, Resilience and Excellence) frame the way we think about what it is be a Heath student. This includes the ways students work whilst in school and what they hope to become in the future.
Members of our school community enjoy positive relationships built upon a mutual respect that creates a harmonious and productive environment within which our students thrive.
The school has an excellent curriculum offer that is broad, balanced and devised with the needs of our students at the heart. Our excellent teaching staff and outstanding pastoral structures enable students to feel safe and happy in school. We are passionate about delivering the highest academic standards and encouraging every student to fulfil their potential in whichever areas their talents and interests may lie.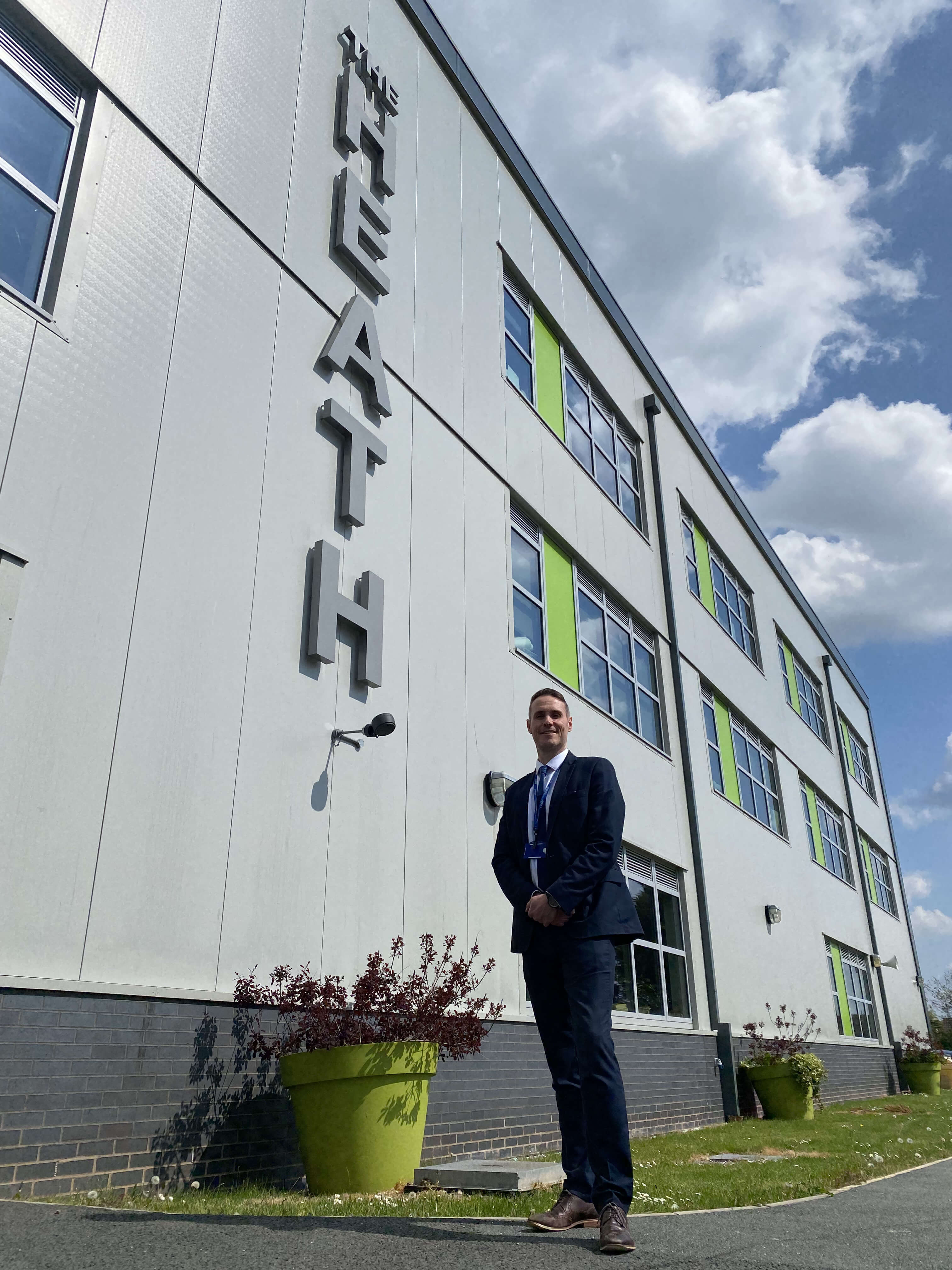 Our students enjoy their time at school and contribute hugely to the warm and positive atmosphere which exists throughout the building. Our teaching staff choose to work here for all the right reasons; they care about our students and work hard on their behalf. In particular, they give up many hours of their own time to facilitate a remarkable range of revision sessions, trips and extra-curricular activities, utilising the fantastic grounds and facilities of our newly built school.
I recognise the huge responsibility that schools have to provide for the young people in their care and will do all that I can to make sure that every single student at The Heath School continues to be valued as an individual and supported to be the very best version of themselves: to be kind, to have integrity in their actions, to take responsibility when necessary, to have respect for their environment, for others and themselves, and finally to show courage and resilience when needed.
Of course, no website can ever be an adequate substitute for spending time in a school and, if you are considering applying for a post at The Heath School, we would urge you to come and visit us. We would be very happy to show you around the school during a normal school day and would be very surprised if you did not leave feeling as positive about the school as we do.
Please have a read through this recruitment website and contact our recruitment partner, Hannah Connell from Hays Education, on 0151 242 5100 / 07966 129 657 or Hannah.connell@hays.com to find out how to apply to The Heath School
We look forward to your application.
Kind regards
Mr J Jardine – Executive Principal
Mr T Tudor – Head of School
About the Trust

"TOGETHER IN THE BUSINESS OF LEARNING"
One CORE PURPOSE; Our academies will provide an education that is broader than just academic outcomes"
The Heath Family operates across the North West of England, with 8 schools in Halton, Knowsley and Sefton based at Palace Fields Primary School. The MAT has established an excellent reputation for bringing about sustainable educational improvement, including leading the emergence of a number of local schools from Special Measures. The mission and vision of the MAT is focused on raising the standards of aspiration and achievement for all students, encompassing innovative approaches to curriculum, teaching and learning, and by being part of a local and regional strategy to increase choice and diversity in education.
About The Heath School
The Heath School is a highly successful 11-16 Comprehensive school in Runcorn with 1202 students on roll. The school is based in a state-of-the art campus building and grounds. The school is one of eight schools in the Heath Family Trust (NW) multi academy trust. The school is supported by outstanding teaching and support staff, which results in true personalisation of learning and greater outcomes for students.
National Teaching School Status
The Heath was of the first 200 Teaching Schools to be designated in April 2012. The designation by the National College puts the Heath at the very forefront of educational policy thinking, with a key role in delivering Initial Teacher Training (ITT) and school-to-school support.
Students and parents want a school that has the highest expectations of learning and discipline, and one where students are happy and safe. The Heath fulfils these wishes as a strong learning community in which every individual is valued.
The driving force behind our success is a dynamic, high quality curriculum that is delivered by highly skilled, passionate and dedicated staff. Our curriculum is personalised, supporting the needs of individual students from the moment they arrive with us.
Staff are dedicated, passionate and committed. The school's mission is to promote the development of all its students so that they are able to achieve their full potential academically, socially and emotionally and that they can lead productive and happy lives.
We seek to ensure that academic potential is fulfilled by valuing the work of all students. There is a consistent focus on securing an outstanding quality of education for all students at the school, delivering a curriculum that is engaging and lessons which are challenging, providing a wider learning experience and excellent standards of behaviour. Success is celebrated and students are rewarded in a variety of ways. Students are provided with a range of opportunities to develop them themselves. The Heath is a truly inclusive school.
A School for the 21st century:
A centre of excellence where everyone has an aspiration to learn, progress and achieve.
A co-operative, innovative, inclusive and dynamic community, with a clear sense of purpose and pride in promoting personalised learning for all.
Co-operation
Aspiration
Resilience
Excellence
The Heath School was inspected in September 2017 and was given a good with outstanding features verdict.
"Pupils receive a good and improving education" …"Leaders have driven far-reaching improvements
"Leaders have established a harmonious community based upon respect, tolerance and consideration for others".
Leaders at all levels, including the governors, have the highest expectations for pupils, regardless of their backgrounds.
Pupils behave exceptionally well in lessons and during the school day. They are courteous and polite, and are committed to working hard.
Pupils enjoy coming to school, which is reflected in high levels of attendance.
We are a successful and happy school and that is reflected in the maths department. The department is supportive, collaborative, and caring and this ethos makes the school a rewarding place to work. You will have plenty of opportunities to develop your own practice through innovative quality CPD and the atmosphere of sharing good practice and forward thinking that exists. We all have a commitment and determination to make a positive and lasting difference to the lives of all our students at the Heath School.
Chris James
Head of Mathematics
How to Apply
To find out how to apply for posts at the Heath School please contact Hannah Connell from Hays Education, on 0151 242 5100 / 07966 129 657 or Hannah.connell@hays.com
The Heath School is committed to safeguarding and promoting the welfare of children, young people, and vulnerable adults and expect all staff, workers and volunteers to share this commitment. Any posts are subject to and enhanced DBS check.
Hays Microsite jobs listing