Premium template - client text
About Home Instead Senior Care
Private home care for older people founded on personal experience.
Home Instead Senior Care is a world leading private home care company founded in 1994 by husband and wife Paul and Lori Hogan. The pair struggled to find personalised care that would suit Paul's grandmother's needs, and from this, the concept of Home Instead Senior Care was born. With the creation of the company, Grandma Manhart was able to stay in her home and lived many years longer than expected. This experience inspired their desire to help other families by providing private home help for ageing loved ones.
A global structure with a local touch
From this positive experience Home Instead Senior Care franchise was created which is now present in 14 countries around the world. Their global franchise model means that they have gathered best practices from around the world and passed them onto each of their individual local offices, enabling them to provide high-quality, personalised care. Therefore, each Home Instead Senior Care offices benefits from high-quality training and efficient processes that enable them to focus on you. In the UK, their franchise owners provide care in specific geographic areas, which allows them to be close to you and available whenever you need them. As a small local business, they will deeply care about your needs and ensure that they provide a personal, outstanding experience every time.
Introducing personalised, quality private home care to the UK
Home Instead was established in the UK in 2005 based on similar reasons to Paul and Lori, at home care options available in the UK lacked a truly personalised approach. Because of their mission led outlook to provide quality care for older people at home, Home Instead Senior Care quickly grew into the UK's leading quality home care company.
Today, Home Instead has over 200 locally owned and operated offices across the UK, who together delivered over 6 million hours of quality care last year, to over 21,000 clients and employing over 13,000 people.
Home Instead UK won many awards including the Queen award for their unique approach to care based on companionship.
More than 60 Home Instead office rated outstanding by the Care Quality Commission in the last two years.
Home Instead' provide specialist trainings City and guild accredited training dementia and End of life. Both trainings gained the princes award for adult learning.
Home Instead runs various local campaigns in collaboration with charities and prominent individuals.
Their brand promise means the quality of their service is consistent across the network.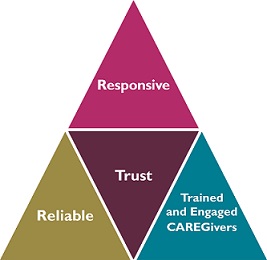 Hays Microsite jobs listing
Latest jobs
There are curently no openings available, please check back later.
If you would like to take a look at all of the opportunities Hays has to offer in the meantime, please visit hays.co.uk.
Visit hays.co.uk