Employer - Multiple Pages - Header
Hays Microsite jobs listing
Mission and Aims - content
BDMAT's mission
To provide high quality education within a Christian framework that allows all pupils to reach their full potential through experiencing a broad and balanced curriculum whilst ensuring staff have a good work / life balance and are fulfilled in their roles.
BDMAT's strategic aims
Strategic aim 1: Education is led by BDMAT's vision and values, and for our Church of England schools these are embedded within a Christian ethos.
Strategic aim 2: To work in partnership with parents and carers to promote pupils' social, moral, spiritual, cultural and physical development within happy and caring environments.
Strategic aim 3: Every school provides a broad and balanced curriculum that equips all pupils to thrive, achieve their goals, succeed in later life and contribute to a diverse society and respect the environment.
Strategic aim 4: Pupils are provided with effective pastoral support and safeguarding arrangements meet all national and local requirements.
Strategic aim 5: Our schools are at the heart of the communities that they serve, collaborating with the church, other schools, stakeholders and organisations in the area to best support their community.
Strategic aim 6: Working in partnership with parents and carers we promote pupils' intellectual development as evidenced through external and internal indicators that demonstrate the vast majority of pupils make good or better progress in our schools and as a result, attainment is high in all of our schools or improving rapidly.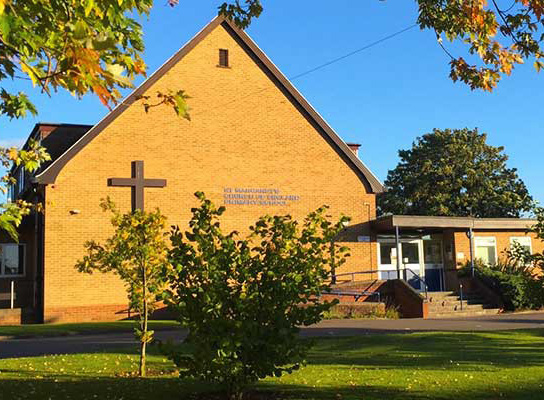 Strategic aim 7: All of our schools are graded 'good' or better by Ofsted or are improving quickly towards achieving 'good' at the next inspection
Strategic aim 8: The practice of staff is enhanced by high quality professional development and performance management systems
Strategic aim 9: The Trust has highly effective pastoral arrangements in place for staff who, as a result, feel supported and have good life / work balance and the Trust is recognised as a good employer for staff
Strategic aim 10: The Trust is sustainable, with secure finances allowing high quality services to underpin our work, ensuring staff in schools are able to concentrate on providing effective provision for their pupils
Mission and Aims - content Ethos
Christian Ethos
The Church of England, and the Birmingham Diocesan Multi-Academy Trust, believes that every child is unique and deserves the very best education, and therefore we believe that education should be provided for pupils that allows:
Educating for Wisdom, Knowledge and Skills
Church of England schools provide excellent academic education, and enable every individual to know how to apply those skills.
Educating for Hope and Aspiration
In Church of England schools, education goes beyond the classroom and affects every part of our pupils' lives. Through ongoing pastoral support for young people and their families, Church of England schools aim to encourage confidence, generosity and compassion, and to equip every individual to engage effectively with those around them and the wider world.
Educating for Community and Living Well Together
Church of England schools are places where collaboration, teamwork and respect for each other are valued and prioritised within the school life. A Church of England school is a safe environment where people respect and care for each other, behave well and share the belief together we can achieve more.
Educating for Dignity and Respect
Human dignity, the ultimate worth of each person, is central to good education. The basic principle of respect for the value of each person involves continual discernment, deliberation and action, and schools are one of the main places where this happens, and where the understanding and practices it requires are learned. This includes vigilant safeguarding. It is especially important that the equal worth of those with and without special educational needs and disabilities is recognised in practice.
Life / work balance charter for BDMAT staff
The Birmingham Diocesan Multi-Academy Trust has at its foundation the principles of the Christian faith and is particularly guided by the statement in John 10:10 where Jesus proclaims, "I have come that they may have life, and have it to the full". The Trust directors have therefore used this quote from the gospel to guide its first vision statement – life in its fullness, for all. We want all our pupils AND our staff members to be able to experience life in its full; for this to occur staff must have a good life / work balance. This charter therefore sets out our commitment within the organisation at all levels to ensure that staff feel they have the right balance in their lives; to reinforce this we have used the phrase life / work balance rather than work / life balance to reiterate the need to prioritise our whole lives rather than the work element. We believe that this charter not only supports our Christian mission but also ensures we are a good employer to our staff, therefore helping to promote retention of colleagues
As a Disability Confident Committed Employer BDMAT are committed to:
ensure our recruitment process is inclusive and accessible
communicating and promoting vacancies
offering an interview to disabled people
anticipating and providing reasonable adjustments as required
supporting any existing employee who acquires a disability or long term health condition, enabling them to stay in work
at least one activity that will make a difference for disabled people