WELCOME
Welcome to the Police, Fire and Crime Commissioner (PFCC) for Essex's recruitment website.
I am delighted that you are considering applying for the brand new role of Strategic Head of Performance and Resources. This is an exciting opportunity to make a significant contribution to the strategic development not just of the PFCC's office but also of Essex Police and the Essex County Fire and Rescue Service, at a time of unprecedented change in the nature of demand on all our emergency services.
The role has been created as part of an organisation-wide restructure to ensure that the PFCC and I are properly supported to deliver the strategic aims and objectives set out in the Police and Crime Plan, the Fire and Rescue Plan and the Local Business Case for Joint Governance of Police and Fire and Rescue Services in Essex. It offers the successful candidate a unique opportunity to work across all three organisations to set and deliver the PFCC's overarching vision and strategy; to identify local needs and challenges, and to work proactively and collegiately with colleagues and partners to design and deliver innovative solutions to these. It will be a challenging but hugely rewarding role, offering the opportunity to make a lasting and positive impact on how emergency services work with victims, offenders and communities across Southend, Essex and Thurrock to prevent harm and save lives.
Our new Strategic Head of Performance and Resources will work directly with the PFCC and Chief Officers across all three organisations to play a central role in setting and delivering the PFCC's overarching financial vision and strategy for a budget totalling some £314.7m for policing and £73.2m for fire and rescue services in 2020/21 (representing increases of 5.7% and 2.6% respectively on the prior year's budgets). Working alongside the PFCC who is the Association of Police and Crime Commissioner's (APCC's) finance lead, the role also offers a unique opportunity to influence directly the outcomes of the forthcoming Comprehensive Spending Review (CSR); to ensure that police and fire and rescue services are fairly funded both locally and nationally; to make the case to government about what more police and fire and rescue services could deliver with more resources, and to build your reputation and profile on the national stage.
I hope that you will find this site of interest and that we have provided all of the information you need to help you make the right decision in seeking to join us. If not, please feel free to contact either myself or our recruitment partner, Hays, with any further questions you may have. In the meantime, if you are a dynamic individual with strong skills in strategising, influencing and persuasion, with the knowledge, experience and credibility required to command the respect of senior colleagues and political figures alike, we hope to hear from you soon!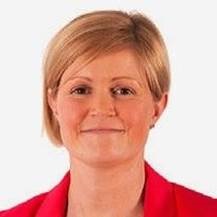 Pippa Brent-Isherwood
Chief Executive and Monitoring Officer